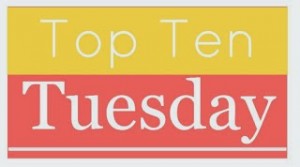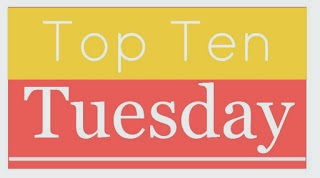 Top Ten Tuesday is a weekly meme created by The Broke and the Bookish. This weeks topic is: The top ten characters I would like to check in with. That means the top characters that books ended but I would like to know what they are up to now.
1. I'm a Potterhead so of course I want to check in on every character from the wizarding world of Harry Potter but I'll name the ones I'm most curious about. Harry, Ron,Hermione, Draco, Luna and Neville. 
2. Sookie Stackhouse with the way that series ended (book series not True Blood) I want to check in with Sookie and Sam.
3. Katy and Daemon from the Lux series. I know Jennifer Armentrout is always creating more stories and different POV's but I still want to check in with them. They are my favorite alien/ alien hybrid and I want the dirty detail from their honeymoon.
4. Clary and Jace from The Mortal Instruments. There is always spin offs coming from the series but it's not the same and I want to check in with them.
5. Aly and Levi from the Crescent chronicles. Oh how I want to know what is going on with them since their wedding. *sorry for that spoiler*
6. Grace and Shane from The Mad World series. My favorite rocker angels – sort of- I would love to know how their lives have turned out. Especially after their wedding and kid, how are they now?
7. Mia and Korem from The Krinar Chronicles. More aliens I know but who doesn't love aliens? I would love to know if they ever had kids and where did they got for their honeymoon, what was the rest of their wedding like?
8. Tobias from Divergent. How is he doing? Did he find a nice girl that helps to heal the hole in his heart from Tris? (I'm still upset with Allegiant)
9. Max and Fang and the rest of the flock from Maximum Ride. That is one series that I will always remember and i would love to check in with them. How are they since the world ended? Are they helping to rebuild and maybe repopulate. *wink wink*
10. Sue Snell from Carrie. I know this is an old book but it will forever have a place on my bookshelf. How did Sue deal with the death of her boyfriend/baby daddy. How traumatized was she and how many years of therapy did it take for her to get over what happened? How did her baby turn out? There are a list of questions I need answered.